I came out of the womb with an innate love for animals – all animals. As a small child vacationing in Florida, my folks took me to a dolphin show. We went each night. The owner felt sorry for my folks and stopped charging admittance. It is apparent to me that my passion was firmly in place at birth as was my fascination with horses.
My first riding lesson wasn't until eight years old due to an age restriction by the County Park System. My mother took me to gaze at the horses until I was old enough. By thirteen my dream of having my own horse was realized. I was blessed with parents that nurtured my love for animals. We started with kittens, but they gave way to family dogs. My folks encouraged my love for

horses and supported my showing from childhood through college.
Upon graduating high school, I made a mind-based decision to become a pharmacist like my father and grandfather. The only thing I really loved was riding and showing horses, and I didn't want to risk losing that. I never wanted to hate going to the barn, so I followed my mind and not my heart, i.e. my passion. Feeling I'd made a very mature decision, I headed to pharmacy school with my horses and continued to show until graduation. While working in my family's pharmacy, I still rode, but no longer showed. Eventually, my mind-based decision turned ugly.
Having grown up at the barn I was ill-prepared for spending long hours inside practicing pharmacy. Even though I was still riding whenever I could, I was in tears on my way to work. So much for mature decisions; mine was turning into a real mistake – an opportunity for learning.
The Universe came to my rescue and righted my course. I fell in love and married my horse vet. I left pharmacy to run our veterinary office, equine hospital and breeding farm. I was back where I belonged. For 27 years I worked ceaselessly caring for clients' horses and our own. I'd have never envisioned this possibility. I had briefly considered vet school, but whenever my own horses needed sutures I got queasy. Little did I know that it was caused by my emotional connection. I had no problem treating others' horses. One of our client's foals showed me just how significant my passion for animals was. Through her battle with scoliosis, she taught me
about my hidden abilities in telepathic communication. Her appearance in my life took my passion to a new and unexpected level.
Thanks to my passion for animals, I discovered my purpose in life. Through my animal communication and healing work, I help animals and people better understand one another. I'm working every day to heal the human-animal bond. Personally, my greatest passion is jumping horses. I've devoted 50 years to that pursuit. I'm happy to say I still love it as much as when I was young, perhaps more. The sense of freedom and sheer joy experienced when Stormy (aka Follow your Heart) and I are jumping is indescribable. There is nothing else like it. It is my bliss.
With Thanksgiving around the corner, I have so much to be thankful for. Not many people are fortunate enough to make a living doing something they love. I am one of them. Even before I was shown my life's work of communicating with and healing animals and people, I loved being a horse vet's wife. I am so thankful to my folks for the fabulous childhood they allowed me, to my ex-husband for our life on our beautiful farm, and especially to all the animals that chose to be with me, as well as all those who agreed to speak to me and let me help them live happily with their people.
I was waylaid somewhat by my mature, mind-based decision years ago, but the strength of my passion prevailed. My passion led me to my true path and charts the course of my life. I've learned to use my intellect for analysis, but I make decisions with my heart. I follow my passion. Always!
***
Nancy A. Kaiser lives in the healing Blue Ridge Mountains of North Carolina surrounded by her family of dogs and a horse. She is the author of Letting Go: An Ordinary Woman's Extraordinary Journey of Healing & Transformation, about her recovery from trauma with the help of animals and nature. Nancy operates Just Ask Communications, a practice devoted to healing the human-animal bond through enhanced communication and understanding. Nancy offers animal communication and healing consults via phone, in-person and on Skype. Visit her at: www.NancyKaiserAnimalCommunicator.com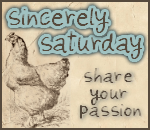 Want to play along?
Grab the Sincerely Saturday button code and post about your passion.
Leave a link to your post in the comments so everyone can visit!