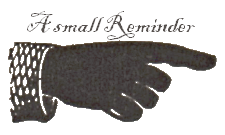 To Do
Don't forget to enter the GE Strong as Steel Sweepstakes (ends 11/11)! There's only a few days left to get your entries in! You can enter on my sidebar daily. Also, check out the other bloggers who are participating in this contest by going to the GE Sweepstakes Blogstakes page. Forgot what it's all about? On November 15th, GE will randomly choose one winner from the folks that have entered through any one of these widgets. The blog that the winner entered through will ALSO win their choice of a brand new GE appliance!
Since I'm thinking about reminders, don't forget to enter my current giveaways! You can win 100 custom flyers (ends 11/8), Anti-Monkey Butt Powder (ends 11/15) or Golden Moon Tea (ends 11/20)!
Some other giveways I've told you about recently are the LuShae Jewery $200 Sweepstakes and the Win your Wishlist Holiday Sweepstakes.
Also, if anyone is interested in submitting a guest post for Sincerely Saturday I have 2 openings left this year, December 21st and December 28th. I can schedule yours in if you'd like a date next year!
Giveaways from other awesome bloggers
Win a container of tea from Village Tea Company at Sweeps4Bloggers! ends 11/10
Anyone love cookbooks as much as I do? Enter to win a Nielsen-Massey Vanillas: A Century of Flavor recipe book at 512 Kidz. ends 11/14
Win a set of Crazy Forts over at Glimpse. I wish they had these when my children were small! They would have absolutely LOVED them, such a simple and fun idea! ends 11/19
One very lucky My City Mommy reader a $100.00 Amazon Gift Card courtesy of Mr.Rebates! ends 11/16
If you're a book lover go check out the Tweet for Literacy Giveaway on Scraps of life. This is a really great one, "Tweet for Literacy will be giving away literacy-related prizes every two days throughout the month of November in honor of National Family Literacy Month. Help a child to read, and let the fun begin!"

Enter the Mega Book Giveaway at Teens Read and Write. This is a really great giveaway that will have multiple winners! ends 11/15
2 winners for this awesome Crayola giveaway at Mom It Forward! These will make great Christmas gifts for whoever wins! ends 11/11
Win an adorable Becky Mae Poppy Fields Necklace and Earring Set on Grosgrain! This is sure to brighten your day! The pictures alone make me smile :)
Leslie Loves Veggies has some of the yummiest giveaways! Go enter to win a Prize Pack of Goodies including Stoneridge orchards, essn™, and Organic essn™ ENERGY products! ends 11/16
Freebies
Did you know you can get free digital downloads of Taste of Home? Neither did I! Thanks to My New 30 for sharing this great freebie!
You can also get a Free digital download of The Old Schoolhouse Holiday Supplement, it's full of recipes, Holiday crafts & worksheets & more. Thanks to The Frugal Girls for sharing!
Don't forget to get your free $15.00 Kodak gift that I told you about last week! November 13th is the last day to enter!
Things to Eat this week
I desperately want to eat this cake right now! I wish I culd have it for a midnight snack! Perhaps tomorrow? Go make the Almond Apple Cake from Passionate About Baking's Blog. YUM!
Last year I made Pioneer Woman's Pumpkin Butter and it was TO DIE FOR! OMG! the most delicious thing on fresh homeade tasted bread, you just can't imagine how yummy it is! My son has been asking me to make it so I think tomorrow I'll cook my dear daughter's mini pie pumpkin and make some!
WHEW!!! I think that's about it for my small reminder! Enjoy!