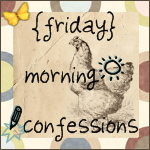 I've eaten dessert every night this week.
More than one dessert on several occasions.
I. Am. So. Bad. And. Full.


Want to play along? Grab my "friday morning confessions" badge by copying & pasting the text below into your post. Then come back and submit your link in Mister Linky so we can check out your confessions! Don't forget to leave a comment. If you don't have a blog, you can still participate by commenting your confession :)
Right click in box above, choose select all. Press ctrl + c to copy. ctrl + v to paste.