This is RJ from Virtuous Girlhood.com and I'm so excited to guest post today!  I love blueberries. And my family has a favorite blueberry cake recipe. However, I'm sick of the same old cake. So I decided to re-create it. And this is the result of my afternoon in the kitchen. This recipe is really easy and is so good.
A favorite blueberry cake recipe by RJ from VirtuousGirlhood.com blog.
Author:
VirtuousGirlhood.com
Ingredients
½ cup canola oil
2 eggs (beaten)
¼ cup of lemon juice
½ cup of sour cream (or plain yogurt)
1 tsp. vanilla
¾ cup milk
1 -1/4 cup sugar
2 -1/4 cup flour
3 tsp. baking powder
1 tsp. salt
2 cups blueberries, frozen or fresh
Instructions
Preheat your oven to 350F and then dump all your wet ingredients into a fairly large bowl. Mix well.
Then add your dry ingredients and mix until just combined. Do not overmix or your cake will be dense and yucky.
Add your blueberries and stir.
When you are done pour your cake batter into a pan and bake for 45-50 minutes or until a toothpick inserted in the center comes out clean.
This makes about twenty-four muffins or two large blueberry breads. I made mine in a sheet cake. You can pretty much use whatever pan you want though. :)
Since this has lemons and blueberry's in it, it counts as healthy right? Right? Be sure to enjoy this yummy recipe with a glass of milk. Thanks Henrietta for having me!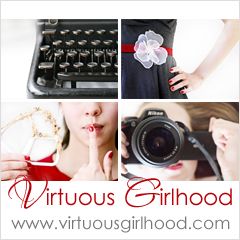 RJ is a homeschooled teenager who is a passionate writer, amateur photographer, dreamer, and lover of rain who lives in the country.
If you can't find her at the barn with her horse, you can find her hanging with her loved ones and friends. @VirtuousGirlhd