I'm almost ashamed to admit this, but I've never bought, listened to, or been extremely drawn to listen to Broadway on CD. Luckily
One2OneNetwork
has saved me from my misguided ways by sending me a copy of the new Rock of Ages – Original Broadway Cast Recording.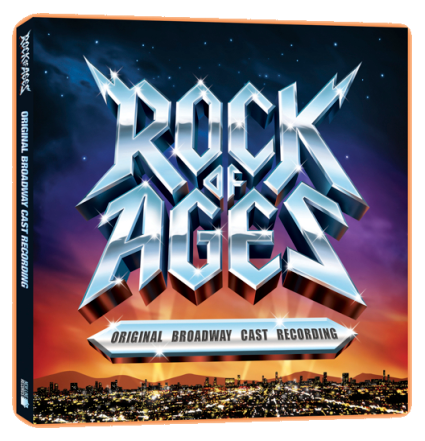 New Line Records just hammered the in-store release of the Original Broadway Cast Recording of five-time Tony Award nominated "ROCK OF AGES."
For those of you not in the know,

Rock of Ages

is the new Broadway musical starring American Idol finalist
Constantine Maroulis
. Set in 1987 in a legendary Sunset Strip rock club, a small-town girl meets a big-city dreamer and they fall in love to the greatest metal songs of the 80's. The musical is an arena-rock love story told through the mind-blowing, face-melting hits of Journey, Bon Jovi, Styx, Reo Speedwagon, Pat Benatar, Foreigner, Twisted Sister, Poison, Asia, Whitesnake and more.
I have to say, I wasn't sure this soundtrack was my kinda thing the first time I heard of it. I've never been to see Broadway. The one and only play I've attended was in elementary school when we went on a field trip to the local theater to see "Annie". I LOVE 80's music, grew up lusting after bad boys in hair bands with too much makeup, and in general like the feelings that Rock inspires. I'm so glad I had the chance to review Rock of Ages! This soundtrack just makes me want to sing, and believe me, I do! In fact, I sing along loudly, even though my children laugh. "These are the songs of the past", I tell them! You don't know what you missed!
Rock of Ages also makes me want to see this on Broadway, badly! Or at least on DVD, is it out on DVD? I'll have to find out. Something else I enjoyed about the CD is that there are bits and pieces of the Rock of Ages Musical dialogue scattered throughout the songs. I really enjoyed that aspect, it made it much more than just songs, there's some real feeling behind the story they tell!
Expect to hear these great songs!
Just Like Paradise / Nothin' But A Good Time

Sister Christian

We Built This City / Too Much Time On My Hands

I Wanna Rock

We're Not Gonna Take It

Heaven/More Than Words / To Be With You

Waiting For A Girl Like You

Wanted Dead Or Alive

I Want To Know What Love Is

Cum On Feel The Noize / We're Not Gonna Take It (Reprise)

Harden My Heart / Shadows Of The Night

Here I Go Again

The Final Countdown

Any Way You Want It / I Wanna Rock (Reprise)

High Enough

I Hate Myself For Loving You / Heat Of The Moment

Hit Me With Your Best Shot

Can't Fight This Feeling

Every Rose Has Its Thorn

Oh Sherrie

The Search Is Over

Don't Stop Believin
Check out this Making of Soundtrack video!
You can find the Soundtrack for sale over on Amazon for a very reasonable price.
Do ya know what I found out? This IS my kind of thing, my kind of music, my kind of Rock and I'm going to be playing this CD over and over again! Go dig out your hairspray, stonewashed jeans, and get ready to Feel the Noize!!!
One2One Network sent me a copy of the Rock of Ages – Original Broadway Cast Recording so that I could review it for this post. I also will be entered into a drawing for one of five $50 gift cards. The opinions given here are my own true and honest impressions of the product!