This post brought to you by Walmart. All opinions are 100% mine.
It's the season of giving and Walmart is again opening up nominations for their annual 12 Days of Giving! If you live in the United States and know of a local non-profit that benefits your community, now is your chance to give back! Nominate your favorite non-profit to receive part of the $1.5 million in grants that Walmart will be giving away to organizations that deserve recognition and support. 
Now through November 18th, You can visit the Walmart 12 Days of Giving Facebook tab to nominate a non-profit. This is not a voting contest! Walmart will be reviewing each nomination and determining which organizations are in need of a grant to help their communities. Let's support our non-profits big and small! They provide much needed support to our communities via food, shelter, diapers, cold-weather clothing and other basic needs.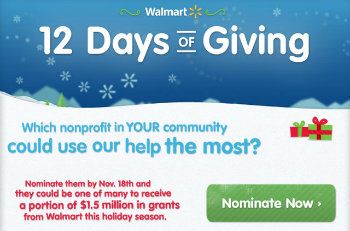 Who I nominated and why:
I wanted to nominate a group that isn't as well known, a group that does not have the benefit that larger, nationally recognized non-profits may have. I was so very glad when a friend mentioned a local group that had helped her family in the past — Ramps of Hope.
Founded in 2010, Ramps of Hope is an alliance of seven ministries located in Western Erie County PA. Together they provide semi-permanent ramps for people who are in need of help to safely enter and exit their homes due to short or long term illness, disability or injury. Ramps of Hope offers their help to any member of the community regardless of their denomination. Working together, volunteers from each of the ministries build and assemble the needed ramps all over the local area. Funding is received through donations, churches and grants. All of the ramps are built by volunteers who show up with their own tools, ready and willing to help their community members.
I nominated Ramps of Hope because I believe this is an amazing service being offered to the community that allows people who may have been essentially trapped inside their homes the freedom and independence to live their lives and feel good about it! Imagine finally being able to go outside without depending on someone to help you out the door of your own home!
How to nominate your local non-profit
To nominate your favorite local non-profit, visit the Live Better application on the Walmart Facebook page to find the 12 Days of Giving entry form. This is where you can submit your nomination.
Click on Nominate Now, you will need to have this information about your non-profit to complete your entry:
non-profit name
non-profit address
non-profit phone number
non-profit website (if applicable)
optionally, you may add a photo of the non-profit (be sure to get permission from them first)
In 200 words or less, detail the nonprofit's impact in your community.
Then hit Submit. Make sure to share on your Facebook wall that you have nominated a local charity and encourage your friends to nominate theirs as well, I did! Who will you nominate?