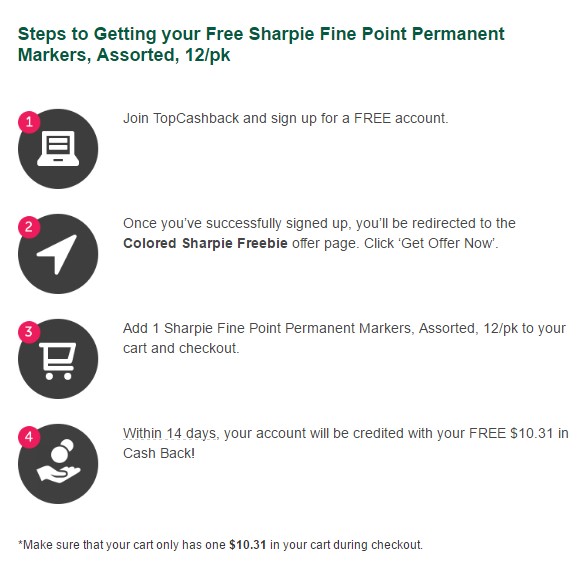 December 4-12: Colored Sharpie Freebie
Product Description: A rainbow assortment of colors makes this set of Sharpie Fine Point Permanent Markers the perfect resource for all your labeling needs. The bright, permanent ink in each permanent marker is waterproof, smear-proof and fade-proof and will write on most materials. Each Sharpie set includes one dozen Sharpie Permanent Markers. Assorted permanent marker colors include one each of: Black, blue, green, red, orange, yellow, purple, brown, turquoise, lime, berry, and aqua for all creative and workplace applications. Durable fine-point tip produces bold, detailed lines. Sharpie permanent marker will write on most surfaces. Ink is waterproof, smear-proof and fade-resistant. AP certified non-toxic for safe use in all settings.
TopCashback.com is the USA's Most Generous Cash Back website.
Join millions of members and earn money back when you shop online. TopCashback provides members with discount coupons to be used in conjunction with cash back.
This post contains affiliate links which means I may receive a commission if you click a link and make a purchase. Thank you for your support!