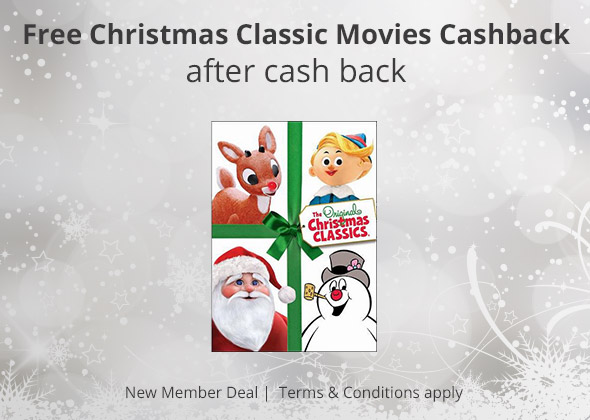 Offer available December 8-14th!
New-Classic Christmas Favorites "Classic Christmas Favorites" includes 10 Holiday favorites:
"Dr. Seuss' How The Grinch Stole Christmas": From animation legend Chuck Jones comes one of the best holiday cartoons of all time, adapting the Dr. Seuss story and starring Boris Karloff as the voice of you-know-Who.  Also includes "The Leprechauns Christmas Gold", "Pinocchio's Christmas" and "The Stingiest Man In Town".
"The Year Without A Santa Claus: Deluxe Edition": When Santa decides to retire one Christmas, Mrs. Claus takes action. Baby New Year is missing – and a certain red-nosed reindeer leads the search. And a kind-hearted burro, mocked for his ears, takes a special journey to Bethlehem.  Also includes "Rudolph's Shiny New Year" and "Nestor, The Long-Eared Christmas Donkey".
"Frosty's Winter Wonderland": Frosty the Snowman's marriage is threatened by jealous Jack Frost; "Twas' The Night Before Christmas": Clement Moore's classic poem comes to charming new life.
"Rudolph And Frosty's Christmas In July": The feature-length delight about what happens when a certain reindeer's nose stops shining. Featurettes, Audio Commentary. Subtitles: English SDH (Subtitles for Deaf and Hearing Impaired), Extra Goodies: "Making Animation and Bringing It To Life" – Audio commentary with Animator Phil Roman and June Foray, the Voice of Cindy Lou Who; "Dr. Seuss and the Grinch – From Whoville to Hollywood"; "Songs in the Key Of Grinch"; "We Are Santa's Elves"; "Stop Motion 101"; Making-of Featurette and Pencil Test.
TopCashback.com is the USA's Most Generous Cash Back website.
Join millions of members and earn money back when you shop online. TopCashback provides members with discount coupons to be used in conjunction with cash back.
This post contains affiliate links which means I may receive a commission if you click a link and make a purchase. Thank you for your support!