This post brought to you by Kaeng Raeng. All opinions are 100% mine.
I wasn't sure what to expect from using a detox system. For one thing, I just 'knew' I'd probably spend the three days miserable and starving. I was really worried that I wouldn't have the willpower to complete my first day, let alone three! It turned out to be a better experience than I had expected. Kaeng Raeng has proven itself to be an affordable, delicious and super convenient cleanse option.
Detox Day One:
Being the last minute procrastinator that I am, I needed to make a run to the store so I could start the detox. I grabbed a handful of carrots and a mug of hot organic green tea and headed out. After dropping my son off at college and navigating 20 minutes of road construction, I made it to the store and stocked up on fresh and frozen raw fruits and veggies — the Kaeng Raeng cleanse system doesn't want you to starve to death while cleansing. It allows you to eat your heart's desire of raw fruits and veggies, along with the daily smoothies packs.
10 more minutes of waiting in road construction and a short drive later, I had made it home and whipped up my first Kaeng Raeng Smoothie. I had found a link on the website to a .99 ebook on Amazon, it included several smoothie recipe ideas and a general introduction to the system. The first smoothie I tried, was the Juu Juu For You Smoothie. This combines one packet of Kaeng Raeng Juu Juu, 24 oz of water, 1/2 a cup of Orange Juice, 1/2 of a Banana and a 1/2 cup of frozen Blackberries.
Now, I hadn't thought about just how much liquid there is in 24 ounces. Add in the fruits and each package makes a HUGE glass (pitcher?) of smoothie. I was full before I was half done with that first one! Call me crazy, but I felt like I had a ton of energy all day — even though I hadn't had one cup of coffee!
Detox Day Two:
Day two started off harder than day one. woke up with a headache and I'm not sure if it's because I hadn't had any coffee in over 24 hours, or maybe I didn't drink enough water on Day One. In any case, I suffered through it and really focused on drinking more water throughout the day. My headache finally went away around dinner time, so I'm thinking it was a bit of dehydration.
My favorite Kaeng Raeng smoothie of Day Two was the Delicious Daybreak, using a packet of Kaeng Raeng Daybreak mixed with 24oz water, 1/2 a cup of Orange Juice, a small Banana and 1/2 a cup of frozen Strawberries. For Dinner, I ate a big plate of raw veggies — romaine hearts, cherry tomatoes, bell pepper, carrot, snow peas, and spinach topped with 1 tsp natural walnut pieces and 1/2 cup of smashed raspberries. I love salad and eat a lot of it, but this one tasted sooo good after a day of nothing but water and smoothies!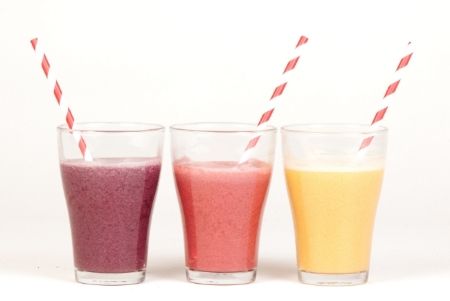 Detox Day Three:
Day three was, not surprisingly, the easiest. Drinking my mug of organic green tea was satisfying and my coffee craving wasn't as intense. The favorite Smoothie of the day was the Antioxidant Plus with a packet of Kaeng Raeng Juu Juu, 24 oz water, 1/2 a cup of Pomegranate juice and 1/2 a cup of frozen Mixed Berries. I wasn't hungry at all and I enjoyed eating fresh green pepper ans snap peas along with a veggie salad for dinner, again topped with a raw raspberry dressing.
Conclusion:
I was interested in trying the Kaeng Raeng system for a few reasons. First, the system is customizable for each person, and is available in a 3-day or 6-day program — in three different levels. Cleansers can choose from Beginner, Veteran and Master levels. If you are unsure about which level to start with, there is a simple quiz to help guide you.
I also was happy to hear that Kaeng Raeng is animal free, plus a portion of every single sale goes to an animal protection organization. This is a great way to feel good about helping yourself, and animals in need.
And, one more reason this product appealed to me is the fact that Kaeng Raeng has no artificial ingredients, no preservatives, no laxatives and no stimulants. It's also a soy free product and the ingredients to make Kaeng Raeng are sourced locally from California Farmers.
Be sure to follow Kaeng Raeng on Facebook to get great recipes, tips and motivation!
Where to Purchase:
Kaeng Raeng may be purchased at www.kaengraeng.com, www.Amazon.com and Select Whole Foods Markets. Users can leave a review with their experience with Kaeng Raeng on Amazon and receive a coupon for 15% off their next order at www.kaengraeng.com.
Win a Swag Bag:
We're giving away one swag bag to a reader. Just leave a comment why YOU want to try a vegan cleanse. For an optional entry, Like Kaeng Raeng on Facebook and then leave an additional comment with the url. The giveaway is open to residents of the United States, ages 18+ and ends on May 31st, 2014 at 11:59pm EST.
Can't wait to try it on your own? Use code HensNest10 at check out to receive 10% off! (Exp. 6/13/14)