This post brought to you by ZzzQuil. All opinions are 100% mine.
I really do not like to take medicine. Often, I'll wait until I have a splitting headache or amy cold is so bad that I can't function before I give in and take something to relieve me. I can't explain why I don't like medicine, I just don't! As I've gotten older, I have come to realize the value of using medicine to properly treat the little things in life. When Chris recently was hired at his new job, we were both ecstatic! After a week, I was still happy for him but I was also feeling grumbly from lack of sleep. For years, I've been able to sleep in until 7am when my daughter got up for school. This year however, she started middle school and I have to make sure she's up and about by 6am. With hubby's new job, I have to get up at 4:45am. Chris leaves for work at 5am and if I don't get up when he leaves, I would sleep right through the alarm!
This wouldn't be so much of a problem if I weren't a night owl. I love staying up late, to enjoy the peace and quiet, knowing my family is home and safely tucked away. When I used to be able to sleep in until 7am, I would often stay up until 1 or 2 in the morning to catch up on work or even play a game or two. That would still give me 5 hours of sleep which was great! Nowadays though, I need to get in bed by 11:30 – 12:30 in order to function the next day. I cannot tell you how hard it is for me to fall asleep that early, after years of being a night owl!
When the ZzzQuil asked me to try out their nighttime sleep aid, I hesitated because I have never used a product just for the sake of helping me to sleep (other than when I'm seriously sick with the flu or major allergies and have to take something to breathe!). Since I'm a walking zombie lately, I figured I would give it a try. Plus, ZzzQuil is from the makers of NyQuil and I trust the brand as we've used it for years when we're sick. I purchased both the ZzzQuil LiquiCaps and a bottle of ZzzQuil Warming Berry Flavor liquid. Both products are non-habit forming sleep aids and contain 50mg of Diphenhydramine HCI per dose as the active ingredient to help with sleep (30ML of liquid or 2 LiquiCaps).
How does ZzzQuil work? ZzzQuil contains diphenhydramine HCI, which is a big word for a small compound that helps you sleep. To help you stay awake and alert, your body produces histamine, a naturally occurring substance that interacts with receptors in your brain to promote wakefulness. Diphenhydramine acts as an antihistamine, which blocks your brain's alertness to make you feel the opposite: drowsy.*

*Emanuel MB. Histamine and the antiallergic antihistamines: a history of their discoveries. Clinical and Experimental Allergy. 1999; 29:1–11.
You might notice that ZzzQuil has different ingredients than NyQuil and that's because they are used to treat two completely different things. Nyquil should only be used as directed and ZzzQuil doesn't help with pain, colds or the flu, just sleeping.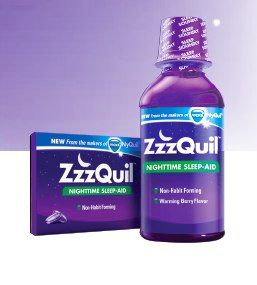 I tried the ZzzQuil Warming Berry Flavor Liquid the other day when I was wide awake and sure I would have a hard time falling asleep. I took a tad less than the 30ML dose, because I almost always take a bit less than I'm supposed to of any medicine, and waited to see what would happen. While ZzzQuil certainly didn't "knock me out", I did start to feel quite sleepy after 15-20 minutes. I didn't wake up in the middle of the night as I sometimes do when the dog is dreaming or snoring or chewing (bad dog!) and I didn't have any weird dreams as some people have reported in other online reviews. I felt a tiny bit groggy right after getting up but it wore off after I was up and about with my first cup of coffee and I felt pretty good for the rest of the day since I actually had more than a few hours of sleep, yay!
I would use ZzzQuil again, on occasion, to help when I know I need to get to bed earlier for a busy day, since it seemed to work well for me and do what it's supposed to — which is help me fall asleep more easily. While I haven't tried the LiquiCaps yet, I assume they'll work just the same. I will say this about the packaging — I don't care for blister packs at all, they're such a pain to open and I have weak hands so I always struggle with them. These blister packs have a little slit where you're supposed to tear them open but I still had a hard time trying to rip it open when I tested it out. I much prefer liquid medicine anyway because swallowing pills is just an unpleasant sensation for me all together but I can see how having LiquiCaps available would be good for travel and other uses.
Have you used ZzzQuil?
If you've used ZzzQuil Nighttime sleep-aid, I would love to hear about your experience! Please share in the comments below, or by tweeting to @ZzzQuil with hashtag #ZzzQuilNight. You can also like ZzzQuil on Facebook and share your thoughts there!