This post brought to you by Vectra flea & tick control. All opinions are 100% mine.
It's finally spring! There are a million and one reasons why I love spring — singing birds, flowering trees, daffodils, hearing the peepers and so many more. Our family has been taking advantage of the spurt of warmth our area has enjoyed over the last several days. And that includes our dog Ginger! Ginger loves going outside to soak up the sunshine. She usually spends quite a bit of her outdoor time sniffing around the yard and burrowing her head into every clump of grass she can find.
It's a nice time of year for both humans and their furry companions! Though most things about spring are pleasant, for our dog, there is one very uncomfortable subject that we have to be diligent about each year — the unwelcome fleas that are bound to come along with the warmer weather.
In Northwest Pennsylvania, ticks are a big problem during the summer months and the fleas can be extremely difficult to get rid of once they make themselves at home on your pet. Trust me, I have battled the dreaded flea before and it was not fun. That's why I never again have went without treating our dog with a good flea medication once spring rolls around.
Flea and tick control protects you and your pet!
With so many flea medication choices on the market, there really is no excuse for not treating your pet. Making sure your dog stays flea-free not only keeps you and your pet from being eaten alive by those little beasties but you will undoubtedly save money, and a ton of time, when you don't have to buy product after product trying to rid yourself and your home of the foul creatures. (I say this from experience!)
One choice when it comes to flea medication is Vectra flea and tick control, which is available at your local vet's office. For broad spectrum protection, Vectra 3D offers long-lasting and fast-acting flea and tick control for your dog. The medication kills through contact and prevents the development of flea eggs, larvae and pupae. Since pests don't have to bite your dog to be affected, the medication begins to reduce flea feeding in 5 minutes and kills fleas in as little as 6 hours from application.
Not only will Vectra 3D protect your pet from fleas, but it also repels lice, ticks, mosquitoes, biting sand flies and mites (excluding mange mites). So, your dog will be able to enjoy their time outside as much as you! Check out the @VectraPet Twitter for all kinds of furry fun and updates.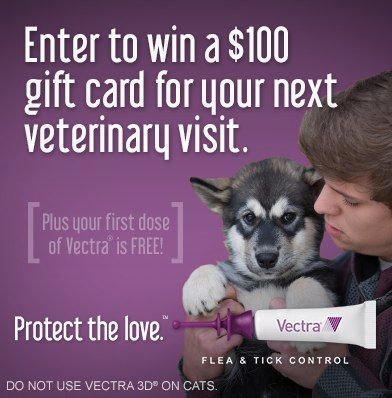 Try Vectra for yourself + enter to win!
To help you and your pet start the summer off healthy and happy, you can now get a free dose of Vectra flea & tick control when you enter Vectra's Protect The One you Love Facebook Sweepstakes! To enter, just "like" Vectra on Facebook then visit the sweepstakes tab where you can enter to win a $100 Gift Card, for use at your next veterinary visit.
Once you have entered the Vectra sweepstakes, you'll then be directed to FirstDoseFree.com where you can print out the coupon to claim a free dose of Vectra flea & tick control. You will have the opportunity to select your preferred Vectra Veterinarian, before printing your coupon.
Please note that Vectra has multiple formulas for dogs, cats, puppies and kittens. DO NOT USE VECTRA 3D ON CATS! Protect the love is the official social identity of Vectra flea & tick control and Vectra is a product of Ceva Animal Health, LLC.
Your pet will be so happy to stay flea-free with Vectra 3D this summer!