After a weird weather day a cool and welcome breeze started drifting in. Around 9pm the sky turned a gorgeous shade of pinkish orange and as Pie exclaimed, while running around the yard with her face turned heavenward, "It was like a fairy land" outside! A perfect twilight I would think (Pie thought it was a night made for Unicorns too!). I wish I could have captured the beauty for you, the pictures do not do tonight's sky justice at all! If the old saying
"Pink sky at night Sailor's delight…"
is true then tomorrow is going to be a marvelous, fabulous, perfect day!
Super G. came home this afternoon and brought a great yard sale find with him. An old typewriter! Pie has always wanted one for some reason. and is always asking
when she can have one! I think she must have seen one in a movie or show. Well Daddy finally found one! Surprisingly enough the ink isn't dried up and the thing still types well! Sitting here listening to her plug away on it from about 6pm to 10:45pm when she finally went to sleep, I was reminded of how much I loved an old typewriter we used to have. The sound of the tapping keys isn't annoying or bothersome at all. It's quite soothing and I really love watching her get so excited about something that many people have no use for anymore. This one doesn't have the automatic return or the loud ding I remember ours having when I was little… but it still has a certain charm.
Super G. only paid $6.00 for this old fashioned treasure. What he didn't bargain for was seeing the absolute delight in his daughter's eyes when she opened the case, and found that she had a wish – no matter how small – fulfilled.
Do you remember playing with one of these? Just seeing her thoughts roll out onto paper gives me a smile and brightened my evening. Take a peek!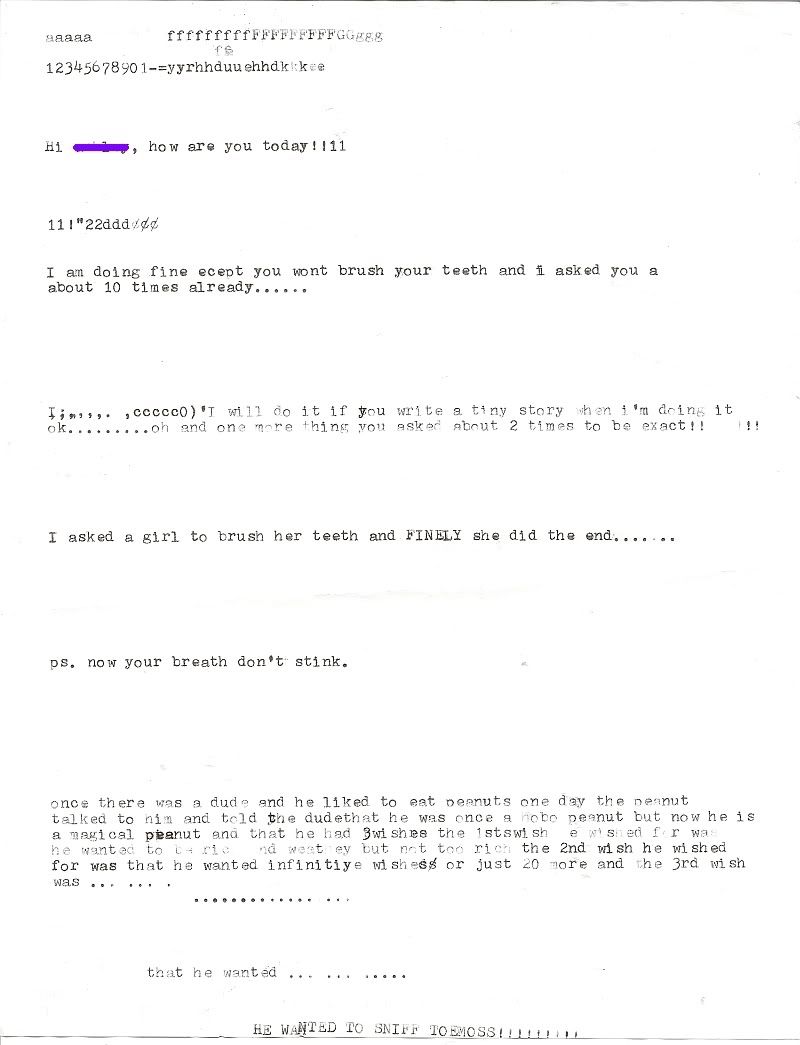 Pie's and Super G.'s typewriter conversation

LOL!