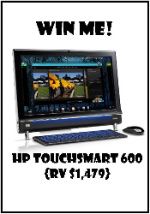 I try not to make it a habit of posting separate entries about other blog giveaways, but… I can't resist!
Jolly Mom
is having an awesome giveaway that I'm super excited about and really wanted to share with you! (oh, and get some extra chances to win!!) She is giving away an
HP Touchsmart 600
computer! Can I just drool!! I need a new computer, my HP monitor died Sunday and I had to run over to my cousins and beg an old monitor off of him! It works but it's just not the same! The color is weird. I want to win this so bad I can taste it!
Extra entry opportunities are available until November 22nd. The Jolly Mom giveaway will begin on November 23rd! Also, there will be 9 other blogs hosting HP Touchsmart giveaways! That means lots of chance to win! I can't find them yet, but when I do you can be sure I'll let you know! Good Luck everyone!