If you had asked me three years ago if I saw myself loving and serving teenagers, I would have laughed you out of my house. However, my oldest son became a teenager and I wanted to know where he was, what he was doing and who he was hanging around.
So, in the words of a very good friend, I "sucked it up" and encouraged my son to invite his friends over to the house to hang out. If you know me, I hate noise, crowds and mess. What was I thinking when I actually encouraged my son to invite over crowds of noisy mess makers?
In my panic, hours before the teens were scheduled to arrive, I went into self preservation mode. I began baking. I made an easy but tasty mint chocolate chip cake. I bought sodas. I rented new PS2 games. My son had about a dozen friends over. They loved the cake. They loved hanging out. They pretty much stayed to themselves in the basement. My two younger kids stayed in the basement with the older kids and kept an eye on them. My husband and I would take a peek every now and again.
The evening was such a hit, we agreed to allow my son to invite friends over about once a
month. Over the years, we've purchased items specifically with entertaining teens in mind. We have PS2, Xbox 360, and Wii. We have Dance, Dance Revolution and Guitar Hero. We have several folding tables with chairs, board games and wireless speakers which can be moved anywhere in the house. So rain, sun, snow or heat, the teens can play inside in the basement, in the garage or outside in the yard.
We've had a board game night. We've had a carnival night complete with a dunk tank and cotton candy machine. We've had silly Olympics. We've had snowball fights. But for the most part we just let the kids decide and they usually are good with just hanging out.
I find that I'm having as much fun as they are. I take pictures, which they love to see displayed on my computer screen saver or on my key ring. I bake. I shop for themed foods and drinks. I come up with new ways to entertain them. I always keep plenty of drinks, food, snacks and paper product on hand to host a crowd of teens on short notice.
I'm amazed at how something as simple as opening my house regularly is appreciated by so many of my son's friends. They come in thanking us. They leave thanking us. They are getting so bold as to call ahead with requests for their favorite baked goods, foods or drinks.
From these monthly parties, I've found that I'm also entertaining my son's best friends on a regular basis. In fact, I get up in the morning not knowing who I'll be feeding for dinner that night or who'll be sleeping on my office spare bed that night. Half the friends even call me Mom Howe.
We took in a teenage boy from Spain for seven months. I volunteered to take on a special needs teenager who is a ward of the state. We would have him over on the weekends and I drove to eat lunch with him at his special school once a month.
Finally, I love being around teens and serving them so much I took on the task of feeding the high school Varsity and Junior Varsity soccer team of 42 teenage boys before each home and away game. For home games, they receive a hot meal with fresh fruit. I send a baggy full of snacks with them as they load up the bus to drive to their match.
And even though it was way more work than I could've ever imagined, I'll be feeding them again next season.
Corrie Howe is a stay at home mom of 3 children, one of whom has Asperger's Syndrome. She has just celebrated a 10th anniversary with her wonder husband and best friend! Visit Corrie's blog Just Because My Pickle Talks Doesn't Make Me An Idiot for some great stories of her life!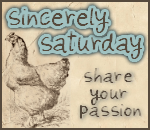 Want to play along?
Grab the Sincerely Saturday button code and post about your passion.
Leave a link to your post in the comments so everyone can visit!