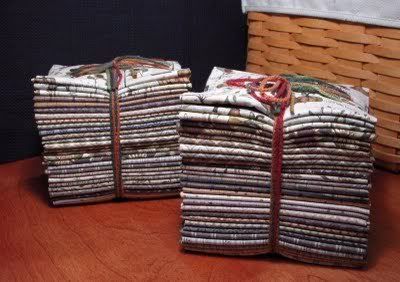 I probably haven't mentioned it before, but I do love to sew! Especially with beautiful fabrics.
Pumpkin Patch Primitives Quilt Shoppe
is having a fabulous giveaway on her blog!
One person will win A Fat Quarter Bundle of Red Rooster's Pumpkins & Spice Fabrics by Whimsicals! (27 fat quarters!!)
Get this.. if there are 250 entries then another bundle gets added! That means 2 winners!
She's not done yet! If there are 350 entries then a $100 gift certificate to Pumpkin Patch Primitives will be added to the prizes!
Wow! That's 3 great prizes in one giveaway! There's a catch… You have to have a blog to enter. You must write a post about the giveaway including a link back to be entered. That's not so bad! Pretty easy really. If you enter then pretty please tell her I sent you! (Henrietta) I'll get an extra entry! Don't worry, you can get extras too, just ask your readers to do the same!
Giveaway ends on Halloween! (Oct 31st)
Thanks to my sis over at Just Contest Stuff for sharing this!