I play the banjo. I also play the guitar. Actually, I will play any musical instrument I can get my hands on… or at least try to. Music is a great joy in my life. For my part in this Sincerely Saturdays series I wanted to share with you one thing about music that warms the toes of my spirit. Rather, one person.John Hartford left behind over 30 albums. He was a supremely talented musician, with nimble fingers that allowed him first to become a virtuoso on the five string banjo, before adding the guitar and fiddle to his repertoire. But it's not his instrumental talent that makes him my favourite musician. It's just him, as a person, that inspires me and makes me smile. He's my hillbilly zen master.
When he plays there is no stress. It appears effortless, smooth, and natural.While most banjo players are hunched over, straining to move their fingers fast enough, John Hartford calmly lets the music flow forth. Always grinning.
The lack of discernible effort in making his music, I believe, comes from a certain contentment. He seems perfectly pleased to do just what he's doing, just the way he's doing it. His lifelong career made no attempt to find commercial success, though he did accidentally stumble upon it once when he wrote "Gentle on My Mind", one of the most recorded songs ever. Even that song, though, is just as quirky and non-standard as the rest of his work.
His lyrics show a great sense of humour, and a great easy-going nature, getting enjoyment out of the simple things in life. He sings honestly, as if he was merely across the kitchen table. He was content to be John Hartford, and let the world decide whether or not it wanted a John Hartford.
Sadly, he was taken by cancer in 2001. Just a year or two before I became a fan of his music.
I'm sure I'll never be as musically talented as he was. I can, however, aspire to live my life at the same level. To be true to myself, without hiding, without shame… simply and honestly. Never compromising to please somebody else, pursuing your own passions and most of all, enjoying the trip.
So the song goes, "this little light of mine, I'm gonna let it shine."
I encourage you to grab a cup of tea, put your feet up, and watch this video of John Hartford sharing some of his favourite songs with you: http://bit.ly/4AVDAP
When Ryan isn't playing the guitar, or more likely *while* playing the guitar, he also indulges a wandering mind with his "Learn Something New Every Day" blog at http://LSNED.com
~
p.s. I love Ryan's blog! You must check it out, he ads something new and interesting almost every day! Fun Stuff!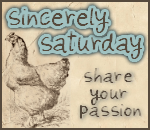 Want to play along?
Grab the Sincerely Saturday button code and post about your passion.
Leave a link to your post in the comments so everyone can visit!