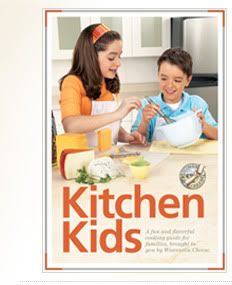 Another free cookbook! Did I ever mention I collect cookbooks? Well, I do! So everytime I see a free recipe booklet I WANT it! I want you to have it too :)
The Kitchen Kids brochure includes fabulous recipes like Jumpin' Jack Chili and Jelly Jewel Cookies! Plus there's helpful cheese and cooking tips!
Request the Kitchen Kids Cookbook while supplies last! 1 per household, United States only. Those outside the U.S> or who don't want to wait can download the Kitchen Kids PDF.
You can also download the Perfect Recipes PDF with yummies like Fontina-Stuffed Bread and Baked Potato Salad.


Thanks goes to Free Sample Freak for sharing on her blog!
Free Sample Freak » Blog Archive » Free Kids Cookbook