Vote for your favorite
magazine covers at Amazon.com, and get a chance to win a $10,000 Amazon.com gift card! Go back on Sept. 21 to vote again in the final round, and get another entry in the sweeps! Ends Sept. 30, 2009.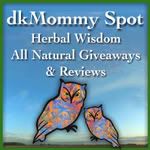 dkMommy Spot is hosting an Alima Pure Mineral Eye Shadow Set Giveaway! Enter to win a Limited Edition Zen Garden set with 4 eyeshadow colors. Ends 9/18
Cheap Chick shared a post she found on how to make gorgeous roses out of autumn leaves. She also has tons of freebies listed, so check her out!

Leslie over at one of my favorite blogs, Leslie Loves Veggies, is hosting a giveaway for one Brittanie's Thyme Organic Facial Care Gift Pack! It includes 3 natural and organic fave care products. Ends 9/24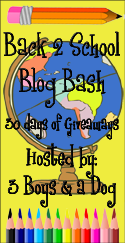 Don't forget about 3 Boys and a Dog's Back 2 School Blog Bash! She has a month of giveaways going on right now all the up to Sept. 3oth. There are some really great products to win such as Rubbermaid containers, USA Rugs, Vincent Shoes and more. There's something for everyone!

Mission Mommy is giving away 10 coupons good for $50 off purchases of $100 at Old Navy! The contest is only up until Sunday 9/13 and the coupons must be used by 9/17. I am really hoping to win one! Good luck to everyone else to enters!
My blogging friend, Crochet Lady, is having her very first giveaway! She's so crafty and is offering a choice between a crocheted hat & scarf set or a pair of her beautiful handmade earrings, both are perfect fall or winter fashion accessories! Ends 9/19 Take a few minutes to read her blog, it's very relaxing & inspiring :)
I seriously need to make this Charlotte Rose Maple Twist Ring I ran across at What Matters Most? blog! Oh does it ever look scrumptious!
My sis has started a new blog filled with contest and giveaway links! Just Contest Stuff will help you enter quite a few giveaways with it's direct links. Let her know I sent you over!