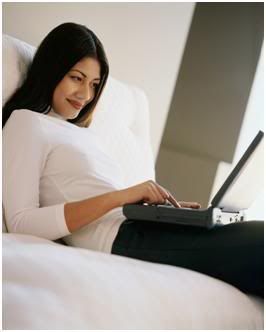 Do you fight your kids or hubby for computer time? If your household is anything like mine, the
minute
my butt moves from my computer chair someone else is in it. I get up to go get a glass of water or throw a load of laundry in the washer, come back and what do I see? My daughter playing on Webkinz, my son looking up Xbox 360 cheat codes or my hubby with his feet propped up browsing through motorcycle or boat auction listings. It
never
fails, and they always seem to have that look on their face, "
Oh, were you on here?
" It's never ending. We are in a constant battle for the only computer in our home…
MY
computer.
Here's your chance to win a brand new laptop (ARV $500)! CookiesKids.com wants to help! If you sign up for their e-mail newsletter you will be entered to win one of 4 laptops! How awesome is that?! You have plenty of time to enter, Good Luck!!
The link below will take you to the entry form to be entered into the Laptop Giveaway Sweepstakes. Please be sure to read the Giveaway Sweepstakes "Terms and Conditions" before entering your information.
Entry Form: http://cli.gs/6dGhsh

Contest ends 9/30/09 at 11:59 AM ET. This contest brought to you courtesy of the Momfluence network.