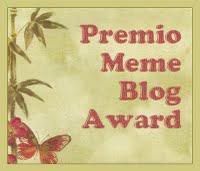 Surprises are so much fun! Audrey from Audrey's Country Crafts surprised me with this lovely blog award! Audrey has the sweetest Etsy shop with all sorts of handmades and upcycled items.
Audrey's blog
has a wonderful mixture of giveaways, Q & A with Etsy artists, and all around crafty goodness!
Audrey says I have to tell 7 things about myself to accept the award and then pass it on to 7 other blogs I like. Oh dear! I am horrible at these memes, but I will try!
I was raised as an only child, but I actually have 5 half siblings and 4 step-siblings!!
I am a paranoid, freak-a-zoid mom who is desperately trying not to be THAT mom!
I giggle and laugh when I'm nervous, or angry, or sad, or just because.
I love to crochet but haven't picked up my hooks in months! I need some inspiration!
Chickens make great pets! All 21 of them :)
I cannot squish things! EWW yuck, I hate the crunch of a wasp or spider, someone else has to get rid of those things.
I am very random, always changing my mind, and basically would forget my head if it wasn't attached :)
Now to pass the
Premio Meme Blog Award
on to 7 other bloggers. This is no small feat, if you've ever looked at my Blog List then you know I follow a kazillion, jillion blogs and I love them all! How to choose just 7?!? Just Do It!!
In no particular order:
Fractured Toy – Love this post!
Scrapbook of a Closet Poet – We both have pups named Ginger :)
Leslie Loves Veggies – She loves to read cookbooks too!
RealWomenRealMoneyWorkFromHome – Great info on surveys, freebies & more

Suburban Hooker

– Just cause she's fun :)
The Pleasures of Homemaking – Inspiring and beautiful blog.

The Graphics Fairy

– I could live on this blog!
Done already! That was nowhere near as hard as I thought it would be, now to notify the awardees!