I am a bread fiend, fanatic and lover. I wouldn't survive without bread in some form! These biscuits are my absolute favorite. They always turn out perfectly and they are so easy to whip up for a fast bread fix :)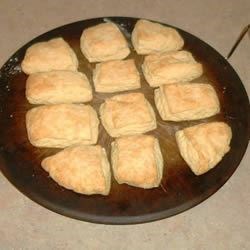 Kentucky Biscuits
adapted from an allrecipes.com recipe
2 cups all-purpose flour
2 1/2 teaspoons baking powder
1/2 teaspoon baking soda
1/2 teaspoon salt
1 tablespoon white sugar, scant
1/2 cup butter, cold (grate if desired)
3/4 cup buttermilk
1. Preheat oven to 400 degrees F (200 degrees C).
2. Into a bowl, sift the flour, baking powder, baking soda, salt, and sugar, twice. Cut in 1/2 cup butter until the mixture resembles coarse crumbs. Mix in the buttermilk. Turn out onto a lightly floured surface, and knead a few turns, until dough just holds together. Gently pat into a 6×6 inch square, and cut into 12 even sections. Place slightly apart onto ungreased Pampered Chef Large Round Stone or other baking sheet.
3. Bake about 15 minutes in the preheated oven, until a knife inserted in the center of the square comes out clean. Serve hot with butter and/or jam.
Options & tips:
I have successfully used butter-flavored Crisco in place of the butter. They still taste great!
I never have buttermilk so I substitute 1 Tbs vinegar in measuring cup and then fill to 3/4 line with milk, let sit while sifting dry ingredients.
If you let them set on the counter for a few minutes before baking they will be extra light & tasty!
These taste great if you replace about 3/4 cup of the all-purpose flour with whole wheat flour. Also, add 1 Tbs ground flax seed. They are nutty and tender!
They taste best hot from the oven, the tops & bottoms of the biscuits will be crisp and melt in your mouth!
Please make them today! We love them with any meal from soup to creamed chicken & biscuits.