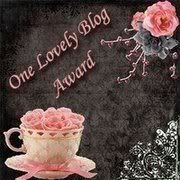 I have just been awarded this wonderful, lovely blog award from Tammy at Frugal Southern Mom. Actually, I was awarded this 10 days ago!! I didn't forget, I just haven't had a chance to sit down and finish this post! So sorry it's taken me ~FOREVER~ Tammy! Thank you so much for my very first blog award! I love Tammy's blog as well, she shares some delicious recipes, freebies & more.
Here are the award rules:
1) Accept the award, post it on your blog together with the name of the person who has granted the award, and his or her blog link.
2) Pass the award to 15 other blogs that you've newly discovered. Remember to contact the bloggers to let them know they have been chosen for this award.
I will be passing this award to:
Scrapbook of a closet poet
Half Assed Kitchen
Real Women Real Money Work From Home
Small Red Kitchen
I am out of time! I will finish this list later this weekend!