Frugal Mommy is having a wonderful giveaway! One lucky reader will win a $100 value Mom Gift Package from The Body Shop! Just take the quick "What kind of Mom am I" quiz and then leave a comment on Frugal Mommy's blog for an entry! Contest ends May 9th.
While your at Frugal Mommy's blog why don't you enter the $1,000 cash giveaway from DealFriends. Sign up for a new account at DealFriends, then go back and leave a comment on Frugal Mommy's blog. The contest ends June 8th.

Head over to the Blissful Style blog for your chance to win a $50.00 gift certificate to Hanes.com! Leave a comment on Blissful Style about your favorite Hanes item, mine is this gorgeous Women's Authentic Tagless stretch cotton tank in Dusty Ivy! I want it :)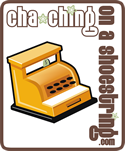 ChaChing on a Shoestring is having a Coast to Coast Florist giveaway! Hurry up it ends Tomorrow May 4th at 8pm est! You could win one of 2 $25 or one of 3 $50 gift cards! Those are great odds. Also every new commenter will receive a $10 voucher! A great prize that you can treat yourself to or save on your Mother's Day gift if you win!
Mama's Money Savers is sponsoring a giveaway from "I See Me!", a site that features personalized children's gifts. To enter to win the "The World According to Your Child" book kit just leave a comment on Mama's Money Savers blog about what other product from I See Me! you would like. You can gain up to 10 entries for this contest! See details on the contest post. Ends on May 15th.