This could be a regular thing on my blog! I do love looking for unique and different freebies and samples. I want something different from the same old ones you see all over the web. I think I found a few good ones today! I'll save the best for last :)
First up is a FREE MenopauseRx Survival Kit , this looks really interesting and has a lot of information in the kit! Great for ladies who gone through natural or induced menopause. The kit contains free educational materials, full size samples and coupons, you also get 5% off if you order through their site. Very easy form with a few quick questions to answer.
Next I found this free "Kids Shouldn't Smoke" bumper sticker. They also have posters, brochures and even 2 free board games you can order! Help spread the word!
This is something else I love, an online game! This site is very cool! The Actibrain site is based on the company's Brain Trainers for the PC which have sold over 500,000 copies around the world. The site says you can "Exercise and train your brain in five key areas: Verbal, Numerical, Logical, Memory and Spatial. Play workout games as much as you want. Take Daily Tests and review your progress charts." I tried it and the games are simple but fun and challenging. Great way to keep your brain sharp :)
Last but certainly not least is my favorite giveaway today! Actually 3 freebies in 1! The Gooseberry Patch Store has a Free Fall Favorite Cookbook form you can fill out. They say there's a limit 1 per address. U.S. & Canada addresses only. The form is still active so you should get your new cookbook within 4 weeks!
Gooseberry Patch also posts a new free recipe from one of their cookbooks each week! This week's recipe is Nutty French Toast Bake, yum! If you register on their site they'll give you another recipe as well!
They also say if you have a recipe you'd like to share and they use it in one of their cookbooks they will send you the cookbook it's published in for Free!
I hope you find at least one of these freebies useful! I have lots more to find and post so stop by again!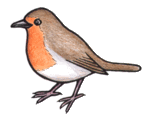 There was a Robin in the backyard today!
Welcome spring!