I'm glad that Christmas is over. Don't get me wrong, I love the holidays! This year the flu took the fun out of it for me though. We had some wonderful moments that I didn't get to capture because my camera flash decided to die on me Christmas day at my mom's party! I was, and still am, pretty upset about it. My Canon PowerShot A570IS
was the first real digital camera we had owned, and besides it voracious appetite for batteries, I loved it. Fortunately for me I remembered a few days after Christmas that I had purchased a Square Trade Warranty on my camera when I bought it new off of eBay. I crossed my fingers and looked up the warranty information, YES! It's still covered, barely! We bought the camera in March of 2008, the three year warranty expires this year. I guess that means I should consider myself  lucky that it decided to go now rather than waiting until the warranty had expired, that would not have been good.
Now, I have six warranties through Square Trade but I haven't thought about them or used any of them… ever. In fact when I logged on to my account I was ashamed to see that I have an active warranty for a bagless Hoover I had bought in July of 2008 from Amazon. That isn't even expired yet but guess where my vacuum is? Probably the landfill. Darn it! I will certainly be more careful from now on to check and make sure that I do or do not have a warranty!
Anyway, I clicked the little "File a Claim" button for my camera, and filled out the easy claim form explaining what had happened. I was hoping that it was going to be just a repair , after all how hard can a flash be to fix? After a couple of days (it was the holiday season!) I received a reply stating that I was eligible for a full payout. They sent me a prepaid UPS lable to send the camera in. When they receive it I can choose one of three payout options:
Instant PayPal payment
Amazon gift card (incudes an 5% bonus)
Mailed Check
I'm choosing PayPal. While I'm 95% sure I'll be purchasing from Amazon, you never know if there will be a local sale to take advantage of.
Now at first I was pretty bummed because I am attached to my camera. I started to freak, Why can't they just fix it blah blah blah! Then I realized I was being idiotic, they are going to give me back the full purchase price of my camera! That is awesomeness! I started shopping on Amazon. This is where I am stuck. I really have enjoyed my Canon but wonder if maybe there are other options.
Here are two camera's I am considering. Keep in mind my payout is $194.95 so I would like my new camera to stay right around that price. Both of these are way better than my 7.1 MP was1 At the top of my list: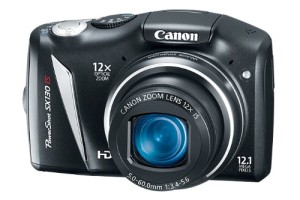 Canon PowerShot SX130IS 12.1 MP Digital Camera with 12x Wide Angle Optical Image Stabilized Zoom with 3.0-Inch LCD
Like I said, I liked my PowerShot, so maybe I should stick with what I know?
Likes:
It's a Canon, I like Canon
Price is good at $179.00. – I could also get a new 8gb SDHC memory card for it with the extra $14.96 I'll have left
12x wide-angle optical zoom
12.1 mp is way better than what I had
smart flash
28 auto shoot modes
optical image stabilization
a miniatures scene mode – fun but not very useful for me
3.0 inch 230K dot LCD view screen
720p HD video – useful but not necessary
can print up to 13 x 19-inch posters
Dislikes:
Manual Pop Up flash – I will realistically probably forget to pop the flash up most of the time, making me miss important shots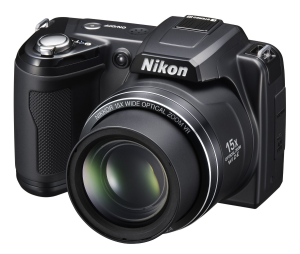 Nikon Coolpix L110 12.1MP Digital Camera with 15x Optical Vibration Reduction (VR) Zoom and 3.0-Inch LCD (Black)
This camera caught my eye, and when I browsed through the user submitted photos I really started to consider it.
Likes:
Still a good price at $199.95 – for a few more bucks out of my pocket I could still get a new SD card
12.1 mp is way better than what I had
15x wide-angle optical zoom glass lens looks way cool!
can shoot approx 840 still images using the supplied Energizer Ultimate Lithium AA batteries
5-way VR Image Stabilization System
15 auto scene modes
Sport continuous mode rapidly shoots up to 20 pics – would be great for daughter's basketball games
Macro shooting from as close as 1 cm – ooh I love this feature!
In-Camera Red-Eye Fix auto corrects before saving to memory
Can auto detect up to 12 faces and automatically snaps picture when they smile. Has a blink detector too – how cool is that!
also has 720p HD video – useful but not necessary
3.0 inch 460K dot LCD view screen
can print up to 16 x 20-inch posters
Dislikes:
again this has a manual lift flash – blah
Honestly I'm leaning towards the Nikon but I have no idea if they are a good camera or not. I've always looked at Canon's. I need advice! Do any of you have experience with either, or even suggestions for a similar camera in this price range? Help!
And then…. I get this email with all these new Canon Powershots! I am horrible at making up my mind. Seriously, I once stood in the vacuum aisle at Walmart for over an hour trying to choose between three different vacuum cleaners! Too many choices! But what about this one:
*yes, I've used my Amazon affiliate links, Why not? lol!